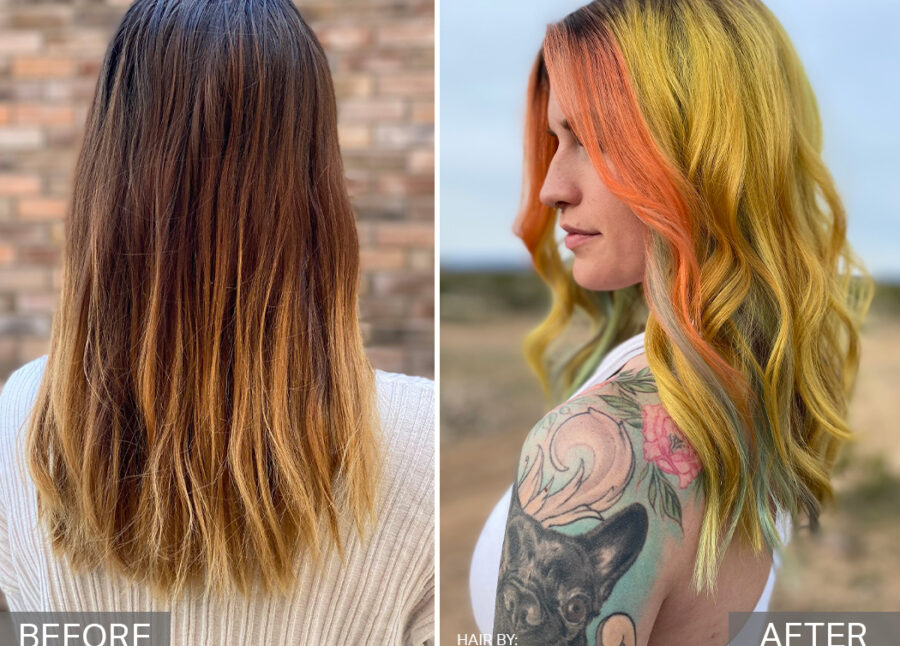 https://youtu.be/imrOsKUbZzA
Inspired by the Prickly Pear Cactus native to the beautiful Arizona Desert, see how Senior Artistic Educator
Tiffany Lobdell
created this stunning Desert Bloom look for Festival Season with VIVIDS Pastels!
Formulas
Lighting Formula
Formula 1: 30g Pure Light Ultra Lightener + 60g 10 Volume Creme Developer
Formula 2: 30g Pure Light Ultra Lightener + 60g Zero Lift Creme Developer
Shadow Root Formula
30g Express Tones Dark Neutral Pearl + 45g Zero Lift Creme Developer
Toning Formula
20g Express Tones Beige + 20g Express Tones Clear + 60g Zero Lift Creme Developer
ChromaSilk VIVIDS Formulas
Pink : 30g Pink
Lavender: 30g Luscious Lavender
Mint: 30g Clear-Pastel with 10g Emerald
Coral: 30g Sunstone
Yellow : 30g Clear-Pastel, 30g Yellow
Application
Step 1: Prep
Prep the hair with Purify and Revive PRIME. This will diminish any hard water minerals prior to any chemical service which can cause lightener to puff and swell or color to take inaccurately.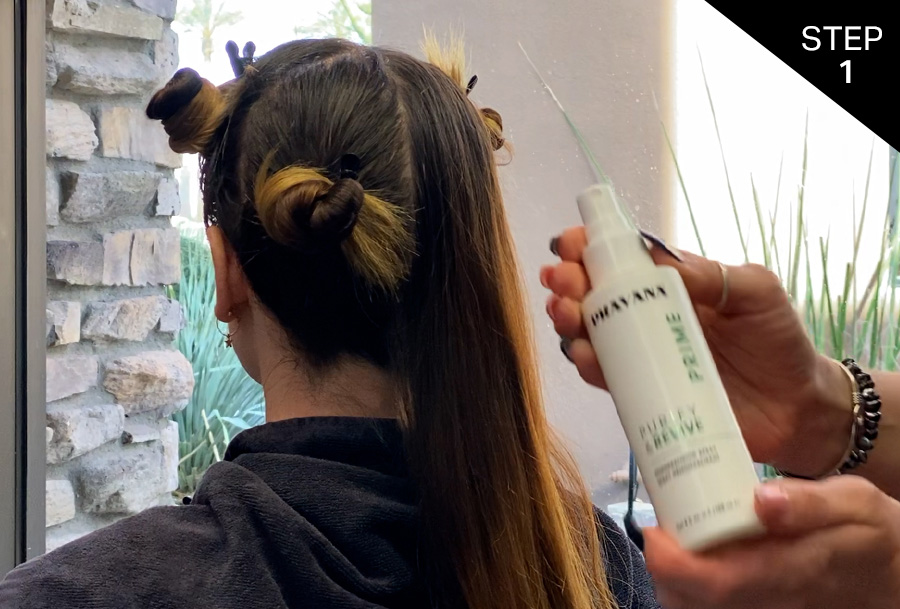 Step 2: Section
Section the Hair in four quadrants to create a working guide.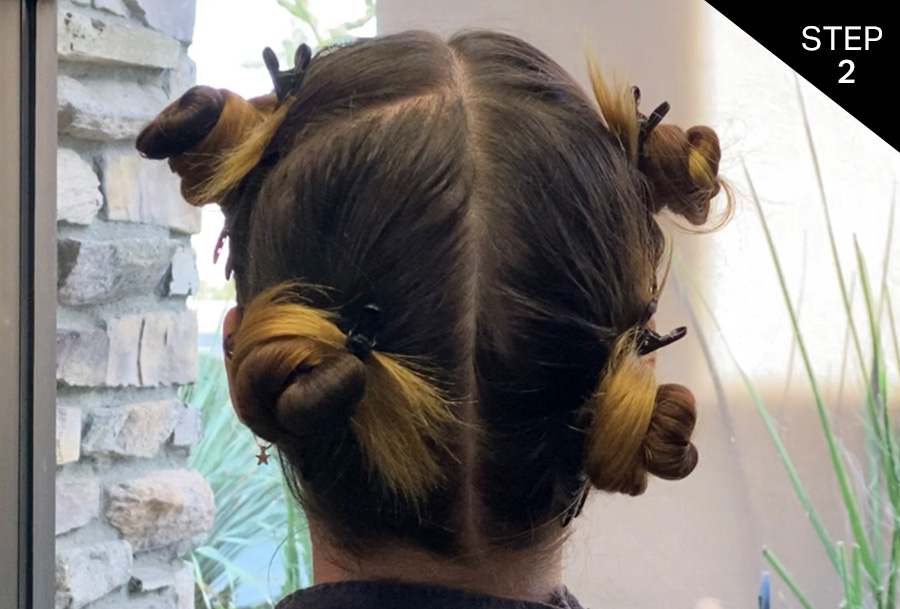 Pro Tip
It is important to take thin sections that you can "read a newspaper through" and saturate well for even global blonding results.
Step 3: Pre-Lighten
Starting at the nape of the head and taking ¼" horizontal sections, apply Lightening Formula 1 about ½" away from the scalp to the beginning of the previously lightened ends without overlapping. Then apply Lightening Formula 2 to the previously lightened ends. Repeat this process on each quadrant.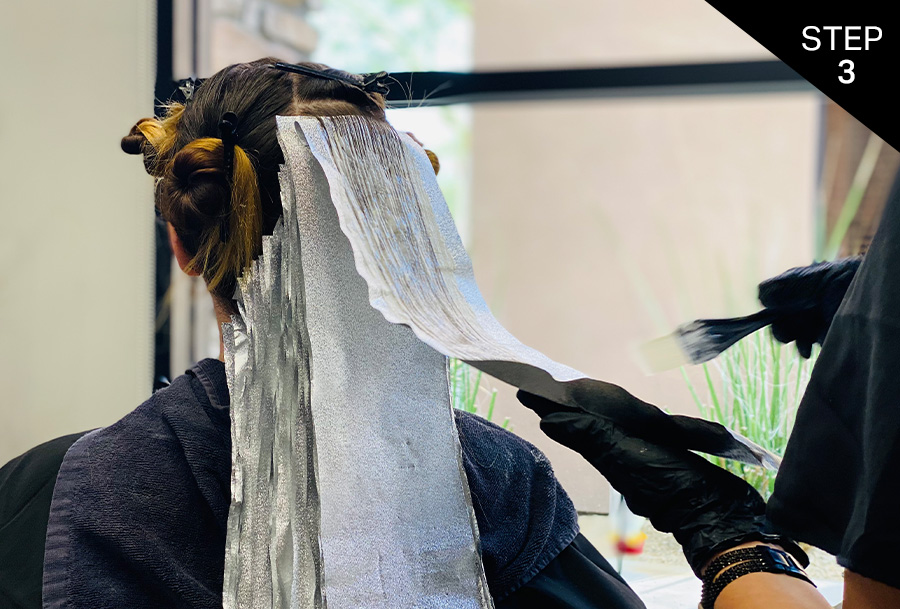 Pro Tip
Take thin sections that you can see through to ensure even saturation. Optionally, as you move up the head, increase your developer for the new growth only for even lift which will process all together.
Once the hair has reached a Level 9 Light Yellow, shampoo the hair using Intense Therapy Cleanse. Do not apply conditioner at this time and towel-dry well.
Step 4: Shadow Root and Tone
Following the same 4-quadrant sectioning, create a small shadow root with the Shadow Root Formula taking vertical sections and dragging it down about one inch. Then apply the Toning Formula to the mid-lengths and ends blending the transition point gently with your hands.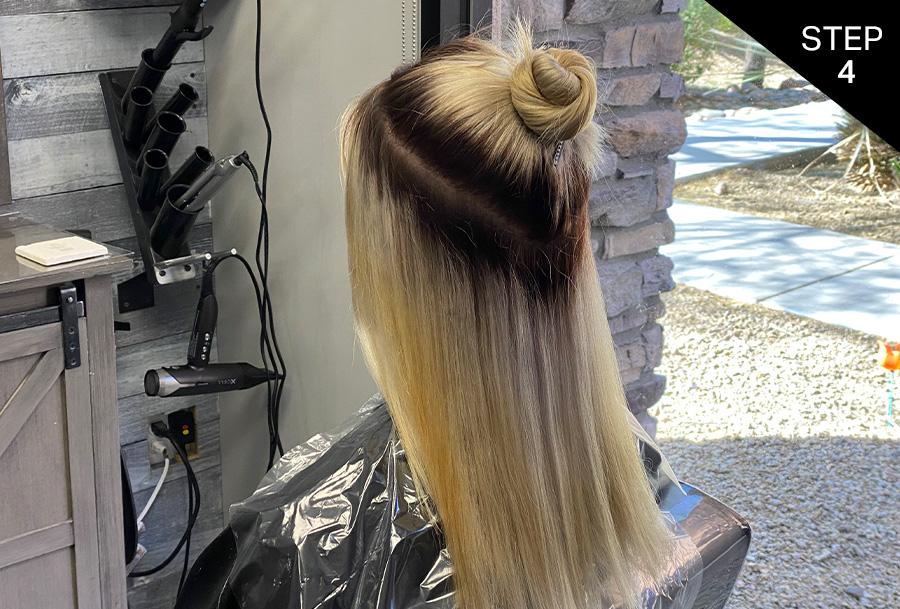 Pro Tip
Taking vertical sections when applying the Shadow Root and Toning Formulas helps to create a seamless blend.
Process 5 minutes at room temperature. Shampoo the hair with Intense Therapy Cleanse and apply Silk Degrees Prep and Treat for 5 minutes to equalize the porosity for smoother VIVIDS sectioning and application. Rinse and dry the hair completely.
Step 5: Section
Section the hair creating a tear drop on the top of the head leaving a 4" perimeter around the entire head. Divide the perimeter into four equal sections on each side of the head for a mirrored color pattern.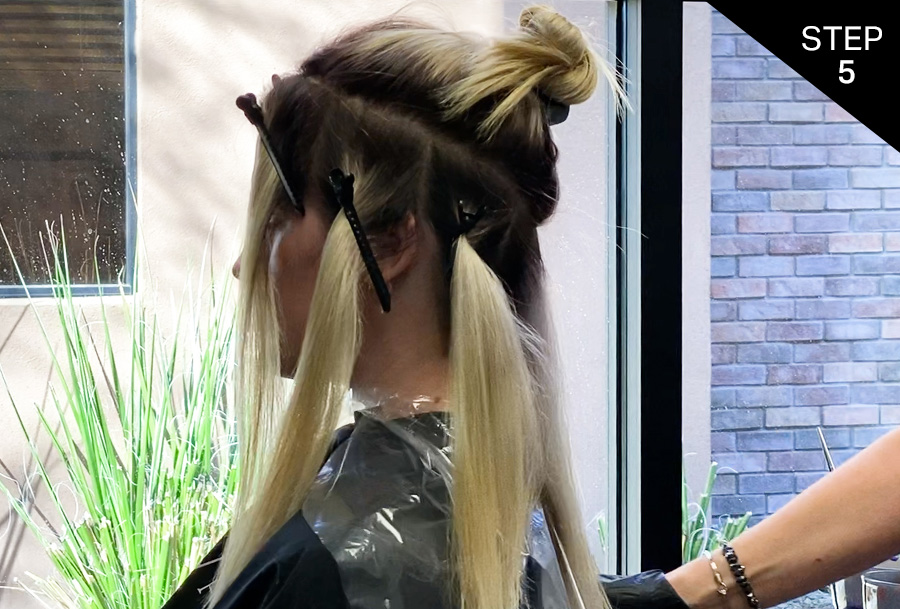 Step 6: VIVIDS Application
Begin your application with the Pink Formula applying it to the back sections on each side. Then moving forward, apply the Lavender Formula to the next section, the Mint Formula to the next section and the Coral Formula to the last section at the front hairline. Cover with a meche sheet or foil and apply the Yellow Formula to the entire top section.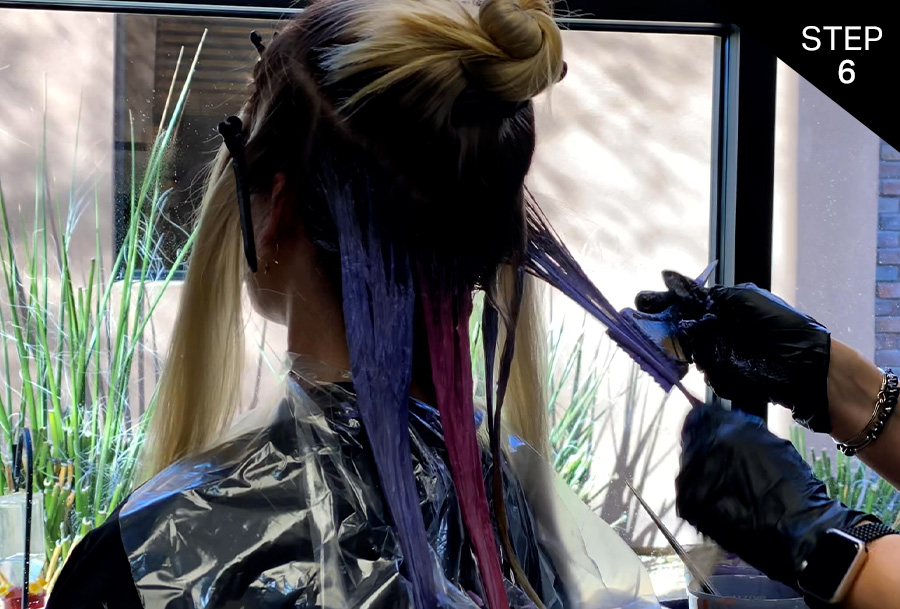 Pro Tip
For even saturation when applying VIVIDS direct dyes, make sure to reload your brush every 3 inches and apply generously with a side-to-side motion as well as an up and down motion. We call this the "3-inch Rule".
Process for 30 minutes at room temperature. Rinse with cold water and high water pressure until the water runs clear, then condition with Intense Therapy Condition. There is no need to shampoo VIVIDS, the Keratin Protein and Silk Aminos in ChromaSilk VIVIDS leave the hair feeling soft and moisturized.
Step 7: Style
Detangle the hair with PRAVANA's Intense Therapy Leave-In Treatment. Then cocktail PRAVANA's Polish and Reunite with a few drops of PRAVANA's Hydra Pearl Oil. Apply to well towel-dried hair starting at the ends, working your way up and combing through for even distribution. Blow dry smooth and style with a 1-1/2" long barrel curling iron alternating the direction of the curls for a tousled, loose lived-in look.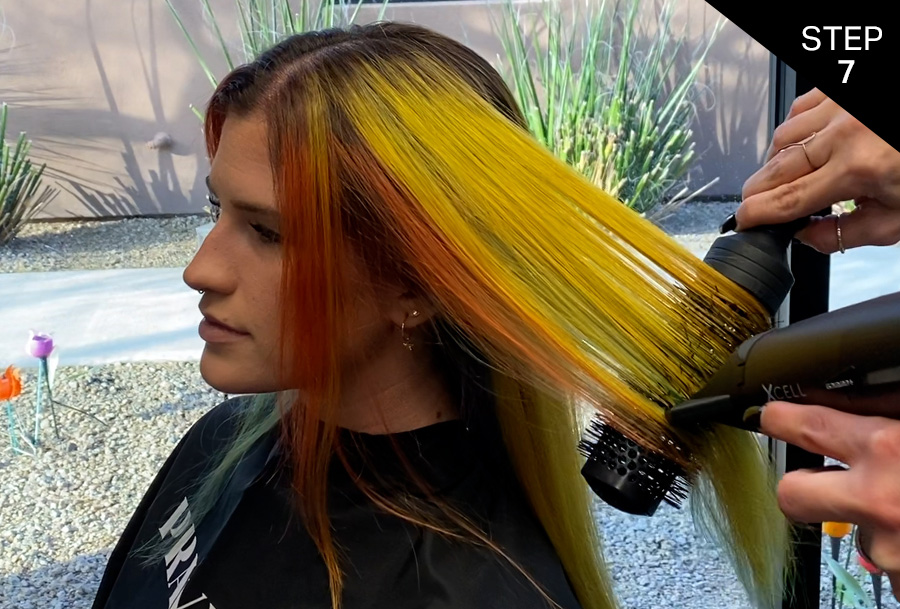 Pro Tip
The combination of these two products create the perfect soft and shiny blowout while providing thermal protection up to 450 degrees and smoothing down the cuticle leaving the hair so silky.
Reveal